Note: I have a new beginner's guide to selling on Amazon here. While the information below is still accurate, its over 10k words and goes into more detail than you probably need if you are just trying to figure out how it works, what you can potentially earn, and then pointed in the write direction about what to do next. If that is what you are looking for, read the new guide.
What you sell and how you source it is arguably the most important part of learning how to sell on Amazon.
This post will go into detail about how to sell on Amazon for beginners – including what we believe is the smarter way to approach product sourcing and the actual mechanics of how to sell something on Amazon.
The potential profit on Amazon is very high, but it is extremely important to use strategies that match your experience.
We strongly advise that you avoid using debt to finance your Amazon start, and this guide will show you how to do that.
On a similar note, you don't need to wipe out your savings just to sell stuff on Amazon.
Read the whole thing or use the links below to jump straight to the content you are most interested in:
---
Getting Started on Amazon
If you are on the fence about whether or not to try selling stuff on Amazon, consider these facts:
Amazon gives you access to hundreds of millions of potential customers..
Selling on the Amazon platform greatly simplifies the process of selling.
Related to #2 – Fulfillment by Amazon (FBA) means you don't have to spend time on order fulfillment.
The start-up costs to sell on Amazon (if you choose sourcing strategies wisely) are low
You can sell on Amazon AND anywhere else you want. It's not an either-or decision!
For all the downsides that you'll hear about regarding selling on Amazon, we've found that the upsides far outweigh them. Amazon is the biggest online marketplace in the United States, and the potential sales volume to be gained far exceeds any other option.
How much does it cost to sell something on Amazon?
The start-up costs for both online retail in general and selling on Amazon are very low compared to other businesses.
A commonly cited figure for starting a business is $30k, but this figure is highly variable based on the industry you are getting into.
JungleScout recently published a study showing that the average Amazon seller only spends $3,836 to get started! But a lot of people can't even afford to spend that. If you don't have $4k sitting around to invest in a product, that's okay!
The strategies we recommend for getting started don't even cost this much – in fact, you can get started with less than $100!
Later in this guide, we'll discuss this more. You should also grab a copy of the book I'm offering about getting your first sale on Amazon.
We'll also discuss the fees for selling on Amazon – but there are options for getting started where you only pay once an item sells.
How much money can you make selling stuff on Amazon?
The amount people earn selling on Amazon ranges from $0 to many millions. Some people lose money, some people become incredibly rich.
For perspective, we sold $6,507,690 worth of products on Amazon in 2019.
On an average month, we sell over $450k in products. That number goes up considerably during Q4 though.
There are many people who earn a lot more than us, and there are many who earn less. The big range in potential outcomes has a lot to do with your goals and the strategies you employ. My goal was to fully replace my accounting job, so I worked hard to scale my business to the level it is at today.
Getting an Amazon Seller Account
To sell on Amazon, you need to get an Amazon Seller account. This is separate from the account you use to buy things on Amazon, although you can sign up with the same email if desired.
There are two types of Seller accounts: Individual and Professional.
The Professional Account offers a lot of advantages over the Individual account, but it also costs $39.99 a month. Benefits include:
The ability to earn the buy box
Option to run promotions
Bulk-uploading of items from a spreadsheet
Ability to use 3rd party tools and apps
Of these, the ability to earn the buy box is likely the most significant if you will be selling products with other sellers on the listing. We'll cover what the buy box is shortly.
Individual accounts do not include a monthly fee, meaning you can create one for free. Every sale you earn with an Individual account includes a $0.99 per item fee that the Professional account doesn't have though.
So right away, if you plan on selling more than 40 items a month, the Professional account is the better deal even without the extra benefits.
You can read more about the differences between the two account types here.
Selling on Amazon vs eBay
Amazon and eBay offer very different experiences for both buyers and sellers.
While many new sellers naturally wonder if it's better to sell on Amazon or eBay, our experience is that this decision largely depends on the item you are selling.
For this reason, we sell on both Amazon and Ebay.
Here is a post that goes into detail on selling on Amazon vs eBay, including how we decide where we're going to list any given product.
What is the Buy Box on Amazon?
Being in the Buy Box means being the featured listing when a buyer visits a product page. In other words, your inventory is added to the buyers cart if they click the main Add to Cart or Buy Now buttons.
The majority of sales happen through the Buy Box – some estimates put it at over 4 in every 5 sales.
If you want to increase your sales, it's important to make sure you are eligible to earn the Buy Box and follow our simple formula for winning the Buy Box more often.
What is FBA?
FBA stands for Fulfillment by Amazon. This means that the process of shipping the item to the consumer is managed by Amazon – not you as the seller.
FBA is not mandatory to sell on item on Amazon, but we've found that it is usually worth the additional fees that come with the program.
For one, it ends up saving a lot of time over processing all orders internally. Instead, we can box up numerous items in a single shipment to an Amazon warehouse and then Amazon handles all the rest. We've sent hundreds of items at a time to Amazon which in turn saved us countless hours processing each item as it sold.
What is Amazon Prime?
Prime and FBA are often used interchangeably, but they are not the same things. FBA is a type of order fulfillment. Prime is a membership that consumers can purchase that unlocks free, 2-day shipping on many orders. Sometimes it even unlocks free one-day shipping!
This fast shipping is usually only available on orders that are fulfilled by Amazon, which is why some people mix them up.
"Seller Fulfilled Prime" is also an option, though this is generally for bigger warehouses and is only open via an application process.
What are the fees for FBA and selling on Amazon?
There are a variety of fees that are charged when you are selling on Amazon. Some are required, and others are optional based on the services that you choose to use.
The main fees you'll pay are a referral fee (6-15%), a $0.99 per item fee for Individual sellers, a $39.99 monthly fee for Professional sellers, and "FBA fees" if you opt for Fulfillment by Amazon.
There are 3 categories of fees you should understand:
Fees that are charged regardless of the fulfillment method you are using
Fees that are only charged to FBA sellers
Fees that are only charged to merchant fulfilled sellers
Here is an in-depth look at all the Amazon Seller Fees.
Product Categories on Amazon
Every product on Amazon is broken down into Categories and Sub-Categories. There are more than 20 categories that Amazon considers "open", meaning you don't need specific permission to sell in them.
There are also many categories that require approval. In other words, you need to get permission from Amazon before you are allowed to sell a product in them. Only people with Professional accounts can gain approval to sell in a previously restricted or "gated" category.
These Amazon categories require approval and a Professional Account:
Automotive & Powersports

Collectible Coins

Fine Jewelry
Fine Art
Grocery & Gourmet Food
Industrial & Scientific
Sports Collectibles
Video, DVD & Blu-Ray
Watches
You can read more about getting ungated for these restricted categories in this post.
These categories require a Professional Account (but don't need further approval in most cases):
Business Products (B2B)
Fashion Jewelry
Luggage & Travel Accessories
If you want to offer Professional Services, you must be a qualified service professional. You can learn more here.
On top of category-based restrictions, there are also additional restrictions placed on individual Brands and products, as well as certain categories that only allow new items to be sold (i.e. you can't always sell an item if it is used, even if you are allowed to sell it new.)
Brand-level restrictions are generally for big brands like Apple, Nike, Bose, and Levi's.
Product or "ASIN-level" restrictions mean that an individual product is blocked from being sold by resellers. Brand level restrictions are often carried out by blocking all the individual ASINs associated with the brand. ASIN simply means "Amazon Standard Identification Number" and is a unique ID for the product on Amazon.
Can I sell used items?
Whether or not you can sell an item in "used" condition (or any other condition other than "new") depends on the category it is in.
Categories that allow the sale of used items include:
Books
Camera & Photo
Cell Phones
Electronics Accessories
Home & Garden
Musical Instruments
Office Products
Outdoors
Sports
Toys (note: used items are classified as "collectible" in this category)
Tools & Home Improvement
DVDs
Video Games
You can read more about restricted categories and whether or not you can sell used items in a given category on this page on Amazon.
What to Sell on Amazon
Picking what to sell on Amazon is one of the most difficult steps of getting started for most people.
It doesn't have to be.
Most people run into problems because they try to start with a strategy called private labeling.
Private labeling means putting your own brand on an easily manufactured product. This generally involves little to no modifications to an existing product design.
When this idea was first catching on, it was easy to find profitable niches. As time has gone on and more people have learned about the supposed ease of this strategy, the competition has grown incredibly fierce.
While building your own brand remains a highly profitable strategy if you are successful, it requires a lot more experience and skill to do well. It isn't as simple as plugging in some numbers into a tool then heading over to Alibaba to order whatever product the tool told you to.
You need to understand the market, and you need a plan to add value for customers.
The Key to Success Is Starting With Existing Products and Brands
This is why we recommend that beginners start with selling existing products from existing brands.
The two main strategies for sourcing existing products to sell on Amazon are retail arbitrage and wholesale.
When building an online retail business, we recommend starting with flipping and arbitrage then moving up to wholesale when you have more capital and experience (sales) on the Amazon platform. A complete novice can be ready to try wholesale in less than a year, we've helped people do it in just a few months.
We call this approach to building your business the Stairway to 7 Figures:
Anyone can follow this strategy and earn a profit from the very beginning, as opposed to needing to invest thousands of dollars just to get something to try to sell.
For this, you just need a few things to sell and the drive to follow through.
We recommend that people start by taking on our Arbitrage Accelerator Challenge to earn $250 or more in your first 30 days. From there, retail arbitrage can be scaled to earning you thousands a month in profit.
If you doubt this is possible, just remember that my business sold millions worth of retail arbitrage products in 2020, and you can use the exact same strategies that we use.
Once you've used arbitrage to get your first sales and gain familiarity with the Amazon marketplace, we recommend moving on to wholesale sourcing. Wholesale now accounts for about 65% of our sales (also millions a year).
For most people, it will take somewhere between 3 months and a couple years to go from a complete beginner to being ready to try wholesale. One of the goals of our Best Sellers Lab membership is to shorten that time frame as much as possible.
When you are ready to try wholesale, we offer a Wholesale Accelerator that guarantees you will get your first account and place your first order during the program.
If you want to learn more about all this, here is an in-depth look at what to sell on Amazon.
Setting Up Your Amazon Seller Account
What do you need to create an Amazon Seller account?
The main information you will need to set up your account is:
Business information
Email address
Credit card
Bank account
Phone number
Tax ID
Your business information and tax ID numbers can be your personal information. For a business name, you can put your own legal name. For your tax ID, you can use your social security number.
Keep in mind I'm not a lawyer or a CPA. Nothing in this post is to be construed as legal or tax advice. My recommendation would be to consult a professional who can get to know your personal situation for advice on these matters.
Amazon also sometimes will request additional information like scanned copies of your passport, national ID, bank account statements, or credit card statements.
They are mainly looking for consistency to make sure you are who you say you are and to prevent scammers or people looking to open up multiple accounts. When you submit documents, you want to make sure your address and name match across the documents and application!
How to Set Up Your Account
To set up your Amazon Seller account, you need to visit services.amazon.com.
Once there, you will see a big button that says "Start selling":
This button starts the process of setting up a Professional account – the one that costs $39.99 a month.
If you want an Individual account, you have to make sure you do not press that button and instead scroll to find a link that says "Sign up to become an individual seller":
Once you start the process of setting up a Professional account, Amazon locks the email address you use into that process. We figured this out because many of our students and readers have clicked the link in the picture above but were still asked to pay $39.99 a month.
After working with a student to resolve the issue, an Amazon rep said that the only options were to start over with a new email address or to pay the $39.99 to start the account then immediately downgrade to an Individual account and request your money back.
You can read more about setting up an Individual account here.
Common Account Setup Issues
A lot of new sellers get frustrated when Amazon won't approve their account or suspends their account as soon as they complete the setup process.
Keep in mind, there are two main things Amazon is trying to do at this stage:
Verify that you are who you say you are.
Block spammers, scammers, and people with a history of poor account practices from creating a new account.
If they are blocking you, the first thing you should do is verify that all the information you've submitted matches exactly. When verifying your identity, Amazon is looking for exact matches in spelling, addresses, and other things like this.
For example, you don't want documents with the following variations:
Mike and Michael
123 Vine St. and 123 Vine Street
Bigger variations are even worse. If you've changed your address but the documents you are submitting don't show that yet, I'd recommend getting the addresses updated first or trying to use different documents that reflect the address you are applying with.
How to Change Your Amazon Seller Account Status From Individual to Pro (or Vice Versa)
To change your Amazon Seller account status:
Login to seller central
Go to settings in the top right-hand corner
Click "manage" in the your services box as shown below:
On the next screen, you will be able to see your current services. If you have a professional seller account currently, you will see the option to downgrade. If you are on the individual seller account, you should see the option to upgrade.
This is the process to change your account type any time you need to.
Managing Your Amazon Seller Account
When you log in to seller central, there are a plethora of reports that you can look at. You can look at reports for virtually any aspect of your business.
To begin with we'll discuss how to keep your Amazon seller account in good standing.
In the screenshot above, #1 is showing where your unshipped orders will be.
If you are doing any merchant fulfilled orders, this is where they will show up. When they are in the "unshipped" status, the item has been paid for and it's time to ship it. If you click on the number (it's currently at 6 in the screenshot above), you will be brought to a screen where you can buy shipping.
Arrow #2 in the performance section is where you will see messages that you need to respond to.
The first is buyer messages, these are messages from your customers. You should respond to all buyer messages within 24 hours of receiving them.
In the performance section, you will also see "A to Z Guarantee claims" and "Chargeback claims". These are much more serious and should be responded to right away if you receive one. These are generally signs that a customer had a major problem with an order, and it's important to figure out why and submit any information that is required.
It's also possible that the buyer is trying to take advantage of Amazon's system. If you suspect that's the case, you will be able to submit proof to have the claim removed from your account.
Arrow #3 shows the "account health" section of your seller central dashboard.
No news is good news here. As shown above, there is nothing displaying in this section. This means there aren't any alerts. If you see nothing here that is ok, but if you see something here other than a green checkmark, I'd recommend looking into what the problem is. If you click on the blue "account health" hyperlink then it will bring you to your account health dashboard where you can review all of your metrics.
When you are logged into your seller central dashboard, there are many other reports and links that you will have available as well. The aforementioned ones are some key ones to be in the know about.
I recommend spending some time checking out all of the features and reports. You will be able to gain some great insights into your business by doing this. The ones I mentioned specifically above are some of the most important for keeping your account in good standing, thus the additional details on those.
What Happens If You Get Suspended
The best way to avoid suspensions is to follow the rules and maintain good account metrics as discussed above.
Unfortunately, sometimes people get suspended despite doing their best to follow the rules and be a good seller. This happened to me temporarily back in June 2015. It was an extremely stressful situation and one that is best avoided!
You can read more about my experience with getting my account suspended (and the appeals process) here.
If you do find yourself suspended, you'll get a notification from Amazon that gives limited details about the decision and it will be up to you to investigate further and take the necessary steps to address the problems.
Appealing Suspensions
When you get suspended, you can appeal the suspension to get your account reinstated – but it can take some time, and it's never 100% guaranteed that you will get your account back.
The best thing I can recommend is that you read through Amazon's policies and follow them in good faith. If you do that, even in the unlikely event you are suspended, you'll almost certainly get your account reinstated. I don't personally know any sellers acting in good faith who have been permanently banned from selling on Amazon.
One of the biggest mistakes that people make at this stage is deflecting blame. Everyone wants to focus on why the suspension was a mistake and why they as the seller weren't actually at fault.
I'll tell you right now that this is a mistake and not what Amazon wants to hear.
You need to take ownership for the situation and explain to Amazon how you will avoid the problem moving forward. They want the problem solved, not excuses.
You can read more about appealing a suspension here.
Listing Products On Amazon
Listing a product that is already available on Amazon is easy.
To get started, use a computer to go to the desktop version of Amazon's site and navigate to the product page.
Make sure that the product is an exact match to the one you have! A good way to do this is by searching by the UPC code on the product.
Let's say you have a hardback copy of The 4-Hour Workweek that you want to sell. Searching Amazon for the UPC on the back of the book (9780307465351) will show you the exact result you are looking for:
When you open that listing, you need to look for a button you may not have noticed before that says "Sell on Amazon".
You will find the button under the "Other Sellers on Amazon" box on the right side of the page.
If the "sell on Amazon" button is not displaying on a product page, you can also list a product by logging into seller central, hovering over inventory, and then clicking add a product.
This starts the listing process. For a step-by-step walkthrough of completing the entire listing process, check out pages 23-38 in my Get Your First Sale On Amazon book.
How to Create a Listing for a New Product On Amazon
Here is how you start the process for listing a new product on Amazon (i.e. one that isn't already listed).
Log in to Amazon Seller Central.
Click "Inventory".
Click "Add A Product".
Click "Create A New Product Listing".
This starts the process –-now you have to fill in all the details. The first step is selecting the category and sub-categories it belongs to. You'll also need:
A product title
Pictures
A description
A UPC
Product dimensions + weight
Variation details
What is FBA?
FBA vs Seller Fulfilled
When listing your item, a decision you'll have to make is whether you will ship the item yourself (seller fulfilled) or have Amazon handle the shipping for you (FBA).
We recommend using FBA in the majority of situations. With FBA, you ship multiple items in a single box to the warehouse destinations that Amazon tells you to. From there, Amazon will handle the rest.
The main advantages of using FBA over shipping directly to customers are:
FBA saves time.
Prime products often sell for a 5%+ increase over seller fulfilled items.
FBA products spend more time in the Buy Box.
FBA saves time…
Having Amazon ship each item to customers saves us a huge amount of time. When we use FBA, we are able to send our inventory to Amazon in bulk, and then they ship it to each customer as they buy it. Shipping directly to customers is one of the most time-intensive processes of selling online, so this relieves a significant amount of the workload.
Another major benefit along these same lines is that you aren't tied to one physical location.
Whether you are at home, working at your office, or on vacation, Amazon will continue to ship your items as they sell. In a nutshell they take the vast majority of the logistics off the plate of the individual seller.
Prime products sell for more…
Items will generally sell for more when sold via FBA versus selling the item merchant fulfilled.
When items are sold via FBA, then Amazon Prime customers receive the same prime shipping benefits as when items are sold by Amazon. The return policy is the same as well. This leads Amazon Prime customers to have more confidence in the offering, and they will know exactly when they will receive the item.
This higher level of confidence often means they are willing to pay a higher price.
In my experience, if we're selling an item via Prime, we're generally able to sell for at least 5% higher than the seller fulfilled competition, and very often we're able to sell for more than 10% above the seller fulfilled competition.
More time in the buy box…
The Amazon buy box is the featured offer on a listing. When a customer clicks "buy now" or "add to cart" on a listing, the seller who is featured in the buy box is the one who will make the sale.
We've found that when you are using FBA, your item will be featured in the buy more often than if your item is listed for sale seller fulfilled.
When to fulfill your own orders on Amazon (Seller Fulfilled)…
There are certain situations where we end up fulfilling our own items.
The main one is in December when there is no longer time to get items to an FBA warehouse with time for them to ship out before Christmas. We've found that we get more sales and make more money by fulfilling our own orders for a few weeks because this eliminates the time our inventory is in transit to FBA warehouses and allows us to get more items delivered by Christmas.
Situations like this where you have a high-demand product that needs to reach consumers ASAP are the main scenarios to consider seller fulfilling.
Shipping to FBA
The first step in sending products to an Amazon warehouse for FBA is creating a shipping plan. You can create a shipping plan from within your seller account.
Each shipping plan indicates:
What products you are sending
How many of each product
How you will be shipping it
Whether you want Amazon to label the products for you
If you already have an Amazon Seller account and a product to ship in, you can start this process on your Manage Inventory page.
Labels are needed for identification purposes once the products reach the FBA warehouse. You can label your own products before shipping them, or Amazon will do it for you when the products reach the warehouse for a $0.30 fee per label.
If you are planning on selling a lot of items, it is more economical to label your own products but you need to have the right equipment to do this.
For a step-by-step walkthrough of this entire process, check out this post on creating your first FBA shipment.
What is Commingling?
Commingling means having your inventory pooled with the identical inventory of other sellers with no means of identifying which individual items came from which sellers.
For example, if you and I each sent in a copy of Settler's of Catan and we didn't indicate that we wanted the "Amazon Barcode" applied, both copies would end up in the same pool. When one of us sells "our" copy of the game, a copy would be taken from this group pool – though not necessarily the same one we sent in.
The pros of this system are that it can streamline things on the logistics side.
The cons are that this leaves room for other sellers to send in knock-off, counterfeit, or over-graded products and have them ship as your item!
If you want to prevent commingling, go to the FBA menu in Seller Central and set FBA Product Barcode Preference to "Amazon Barcode".
Advanced Amazon
Below you will find information on advanced aspects of selling on Amazon, including how to run promotions, how to get more reviews, what to do when your products sell, and more.
Amazon Product Promotions & Advertising
To help boost your sales on Amazon, you can run promotions on your products. You can also pay for ads.
Running a promotion can help boost your chances of making a sale when a customer is looking at your item on Amazon. The options that Amazon provides for promotions you can run on your items include:
Social Media Promo Codes
Percentage Off
Buy One Get One
Social Media Promo Code
This allows you to create a custom coupon code that you can share with others. Amazon will provide you with a dedicated link to the page as well to help you promote it.
You are able to pick what type of discount you offer, and how many are able to be redeemed.
Percentage Off
This promotion type is designed to incentivize customers to purchase multiples. For example, you can run a promotion to offer 10% off if customers purchase 2 items and 12% off if they purchase 3 or more items.
You can customize the discount percentage and purchase quantity required for customers to be eligible for the discount. This is a promotion we use fairly often in my business and it helps generate more orders of multiples.
Buy One Get One
This promotion type allows you to setup offers where if a customer buys one item they get the next one free or discounted. You can also set it up so customers have to buy multiple units to get one free. So you can do buy 3 get 1 free, or any combo that you'd like.
How to Set Up A Product Promotion on Amazon
If you would like to set up a promotion on an item you are selling on Amazon,
Login to seller central.
Hover over the advertising tab
Click on promotions.
Amazon Sponsored Product Ads
Another way you can get more exposure for your items is to use Amazon Sponsored Product ads. This is an optional service that allows you to pay for additional exposure to generate more sales.
Amazon Sponsored Products show up in both search results and on product pages.
Amazon provides the ability to run automatic campaigns and manual campaigns. In an automatic campaign you set the bid amounts, set your budget, pick the products you want to advertise, and then Amazon will choose the targeting for you. If you run a manual campaign, then you will choose your own targeting options.
You can learn more about in our guide: How to Create Amazon Sponsored Ads and when you should.
Pricing Strategies on Amazon
The way you price your items on Amazon will have a huge impact on your profitability. After the items you source, pricing is the next most important factor in my opinion.
My default recommendation with pricing is to price in line with the competition if there are other sellers on the same listing.
To do this, find the lowest price offer using the same fulfillment method that you will be using, then match their price or add 1%.
For example, if there is a seller on a listing at $49.99 selling the item FBA, and you will be selling the item via FBA as well, I would price between $49.99 and $50.49.
When you set your price to match or price above the other sellers on the listing, you avoid something known as the "race to the bottom". The race to the bottom happens when multiple sellers on the listing are constantly trying to be the lowest price on the listing. This can turn into an endless battle and erode all of the potential margin.
An example of how this goes:
Seller 1 is priced at $19.99, seller 2 prices at $19.95, seller 1 lowers their price to $19.89, seller 2 lowers their price to $19.75, and on and on, and before you know it there is very little margin left.
Pricing at or a bit above the competition helps to maximize the margins you will see on sales.
Here are some other tips I recommend when you are pricing on Amazon:
If in doubt, start by pricing in the high end of the range you are considering. You can always lower your price later if needed.
Compete only with items that are the same fulfillment method as yours.
Factor the current season into your pricing decision. Some items will be selling for dramatically more when they are in season compared to other times of the year.
Review your pricing often. I'd recommend multiple times per week as the market prices on items change regularly.
These tips should help you to get started pricing in a way that will generate sales and will maximize your profits.
Answering Customer Inquiries on Amazon
One of the things that you are required to do on Amazon is respond to messages you receive from your customers on Amazon. Amazon's guideline is that you need to respond to 90% of messages within 24 hours. My recommendation would be to respond to all messages within 24 hours, and ideally faster.
You will be notified that you have a message to respond to in a few different ways. You can turn off any redundant notifications so that you only receive notification about each customer message in one place. Here are the notification options:
Receive an email
Push notification in the Amazon Seller Mobile App
When logging into Seller Central on a desktop
Any of these 3 options will work just fine, just pick the option that works best for you. If you receive a message, it will show up in Seller Central here:
In the screenshot above, you can see that I don't have any messages outstanding that need to be responded to. If there are messages to respond to, you will see the number of messages you need to respond to. Click on the number and you will be able to respond directly within Seller Central.
When a customer message does come in, the main thing to do is respond within 24 hours. Be as helpful and courteous as possible. Do what you can to answer their questions or solve any problem they might be having, and you'll be good to go.
How to Find Out If Your Item Sells
If you receive a seller fulfilled order, you will receive an email every time that you receive an order.
Your email will say "sold, ship now" and have the details on the item. Then you will be able to login and purchase a shipping label to ship the item to the customer. You can also set up alerts on the Amazon Mobile App to receive a push notification every time you receive a new Seller Fulfilled sale.

The process for FBA orders is slightly different.
You will not receive an email until the item has actually shipped. At the time the item is shipped, you will receive an email that says "Amazon has shipped the item you sold". They will then deposit the payment into your Amazon Payments account. 

The main difference for FBA is that the customer order will show up in your seller account before it actually ships. To see your real-time sales, you will need to go to log in to seller central, go to orders, and manage orders.
On this screen, you should be able to see a tab that shows "all orders" which will show you everything that is sold regardless of the current status. Orders that are showing up as pending are sold but have not shipped yet. There is also a tab on this screen to view only pending orders.

For FBA orders, you can do the same process in the Amazon Seller App. Navigate to orders and then update your filters to the status you want to view.

An important note is that the sales summary that you see on the Seller Central dashboard or on the Amazon Seller App home screen will include pending sales in the total.  

Now that you know how to review your sales, try not to check them too often 😉 
Shipping Seller Fulfilled Items
When it comes to shipping your items seller fulfilled on Amazon, you might be wondering:
How long do you have to ship the item?
How much will the shipping cost?
We'll answer both of those questions in this section.
Once you receive a seller fulfilled order on Amazon, you will have 2 business days to ship the item.
Here's the way it will look in seller central when an order comes in:
You can see that this order sold on March 20th, which was a Friday. The deadline to ship this item is March 24th, which is a Tuesday. Regardless of what time the item sold on the 20th, the ship by date would still be Tuesday. 
2 days is the default requirement for handling time. If you want to update this, you can do so in the shipping settings. You can do this by going to settings in the top right-hand corner of your seller central account, clicking on shipping settings, and then updating your shipping templates.
The price that you will pay for shipping a merchant fulfilled item is based on:
The dimensions of the shipping box you are using.
The weight of the shipping box.
How far the package is traveling from your location.
The larger your items or the farther you have to ship an item, the more expensive it will be.
When you sell an item, you will be able to purchase shipping for the item directly from Amazon. You will also be able to compare the rates offered from multiple different carriers to get the best deal. Let's take a look at a couple of examples.
A box that's 12″ x 8″ x 5″ weighing 2 pounds, shipping from Minneapolis to Salt Lake City:
A box that's 12″ x 8″ x 5″ weighing 10 ounces shipping from Minneapolis to Salt Lake City:
So you can see the box is the same size in both cases, but a substantial difference in weight leads to a significantly lower price. On every item you sell, it's important to compare the prices and choose the optimal shipping method. Generally this will be the lowest cost, but could vary depending on your shipping offerings.
In my business, we do a lot of merchant fulfilling of toys and gift items every December.
There are quite a variety of weights and sizes of these items. I would estimate that on 95% of the items we sell, we are paying between $4 and $12 for shipping. This could vary for you, especially if you sell very large items.
The main thing I would recommend is to estimate your shipping costs in advance.
USPS, UPS, and Fedex all have online tools that will allow you to do this. When using the estimation tools, I recommend inputting a zip code that is one of the furthest points you would have to ship to.
We're located in Minnesota, so when estimating shipping costs, we put in a California zip code. Keep in mind that Amazon has partnered rates with all of these carriers, so you'll almost certainly end up paying less when buying the shipping through Amazon.
Here are some tips on keeping your shipping costs low:
Whenever you ship an item weighing less than 1 pound, use USPS First Class Mail.
Utilize USPS Flat Rate Products.
Utilize USPS Regional Rate Products.
Utilize USPS Priority Mail Cubic.
Be willing to ship through the shipping carrier that offers the lowest price.
Use the smallest possible shipping box. Using too big of a box leads to unnecessary extra costs.
Getting Reviews + Review Rules
Reviews are an integral part of the buying experience on Amazon.
Getting more reviews on your products will be very important if you are selling your own branded products. If you are selling existing products that already have listings on Amazon, then getting more product reviews will not be as important of a process.

Amazon has some very strict guidelines in place regarding reviews. Reviews have been abused significantly in the past, so Amazon has taken fairly drastic action to remedy the problem. As a result, getting reviews is not something you want to be bending the rules on.

Here's a screenshot of current Review Policies:
Getting reviews without breaking Amazon's rules ultimately boils down to getting sales and then requesting those buyers to leave a review for your product.
The main inputs you can influence here are the number of sales that you get on Amazon and the way that you word your requests to leave feedback. 
A certain percentage of all buyers will leave feedback, so getting reviews is a function of getting enough sales.
Many sellers when they are launching a new product on Amazon will sell the products for a very discounted price to get initial sales. Doing this will typically get a batch of reviews coming in. 
Other programs you can look into include the Amazon Vine Program, and the Amazon Early Reviewer Program. These are legitimate ways to get early reviews on your products. 
Overall reviews are not something to mess with. Be sure that you are in compliance with Amazon's policies, as the downside to gaming the system can be very high.
Dealing With Scammers
When it comes to selling on Amazon, a concern that some new sellers have is how to deal with scammers on Amazon.

I'll begin with the note that the overwhelming majority of the time, transactions go exactly as planned. The number of times you will run into someone trying to scam you is very small. It might happen on 1 in every few hundred orders. 

It's still good to be aware of some of the things that scammers might try to pull on you. Here are a few to watch out for:

Saying they never received an item even though the tracking number shows delivered.
When tracking shows the item was delivered and we receive a message from the buyer like this, we will respond asking for them to check a few things first. The message we send back includes to make sure they check with neighbors, an apartment manager if they have one, their local post offices, and includes details on how to file a missing mail claim with the carrier if needed.
After sending this message, the vast majority of buyers are able to locate the item.

Pulling a "switcheroo" on a return.
This one can happen on FBA orders or on merchant fulfilled orders. It involves a customer buying your item, requesting a return, and then sending a different item back. On seller fulfilled orders, you can resolve this directly with the buyer.
On an FBA order, you will need to open a case with Amazon with proof. 
Requesting a change of address.
When you sell an item on Amazon that you are seller fulfilling, Amazon requires you to ship it to the address the customer provided. Some unscrupulous buyers will message you to request to change the address. Then you'll send it to the new address, and then the buyer will file a claim saying they never received the item.
If a buyer reaches out to you for something like this, refer them to Amazon's customer service to get their shipping address updated on the order. 
Those are a few of the types of scams to be aware of. There are other things that you may run into. My best advice is to pay close attention any time things feel a bit off. Read up on relevant policies if in doubt. If you do these things, you should be able to avoid many things scammers may try to pull.
How do you get your money after the sale?
Arguably the best part of selling on Amazon is getting paid. That's why we do it, right?!
When you sell on Amazon, you will have a balance in your "Amazon Payments" account. It will look like this:
There will be 2 main sections of this report. The "standard orders" section, and the "invoiced orders" section. Standard orders are ones where customers paid for them at the time of purchase.
Invoiced orders are typically for business customers and are much less common.
When a balance shows up in a blue, that is how much is currently owed to you. If a balance shows up in red, that is how much you currently owe Amazon.
Amazon will add to your balance every time they ship an FBA order on your behalf, anytime you ship a merchant fulfilled order, or anytime they reimburse you for a mistake they made. The most common example of getting paid for a mistake by Amazon is if they damage or lose a unit of your inventory.
Amazon will subtract from your balance for their fees and for customer refunds.
Your Amazon payments balance will accumulate and be deposited to your bank account every 14 days. You will typically see the funds available in about 2 business days from when the transfer is initiated.
Note: for sellers that sign up during certain time periods, Amazon will provide them with the ability to request a payout on a daily basis. Most accounts don't have this, so if you do, consider yourself lucky.
It's very easy to over-complicate things, especially something as big as starting a business.
What happens to most people who do this is that they keep delaying in the name of waiting for a better time or giving themselves more time to do research.
This chapter will simplify the process of getting started down to 5 very simple steps that you can follow, in order, to get your first sale.
My experience working with thousands of other people suggests that doing this will greatly increase the odds you follow through and get to the point that you are actually selling a substantial volume.
You can get these steps completed in the next week, maybe even sooner! Start now!
5 Steps to Getting Your First Sale…
---
Here are the 5 steps to take to get your first sale on Amazon:
Familiarize yourself with the sourcing strategies on the Stairway to 7 Figures.
Set up your Amazon Seller account.
Source your first product via retail or online arbitrage.
List the product for sale via FBA.
Send the product(s) to an FBA warehouse.
Sound easy? That's because it is!
There is no excuse for not getting this done in the next week. By dedicating just a few hours, you could have your first product listed for sale and be in line to earn your first profit on Amazon.
Remember, EVERYONE starts with 0 sales and the first step is Sale #1.
How to Increase Sales on Amazon
The strategies you can use to increase your sales on Amazon fall into two categories:
Things you can do that generate quick results.
Things you can do that generate results over time.
While you may look at those options and think you'd much rather focus on the quick results, the long-term strategies are the ones that drive the biggest gains over time. So a healthy mix of both types of strategies is called for.
Increasing Amazon Sales Quickly
Here are some of the top ways you can increase your Amazon sales in the near-term:
Upgrade to a Professional account
Use a repricing tool to ensure competitive pricing
Leverage FBA to offer Prime benefits on orders
Optimize product listings (if selling your own products)
Run a product promotion
Set up a Sponsored Product Ad
All of these can give a quick boost to sales and should be a part of your ongoing strategy.
Long-term Strategies for Increasing Amazon Sales
The strategies discussed above can give a boost to your existing sales, but they generally aren't going to be the difference between getting a few sales a month and building a business that replaces your job.
The three biggest strategies and principles to scaling your Amazon to the point that it is generating 6+ figures a year are:
Consistent reinvestment over time
Expanding your sourcing strategies + product offerings
Automation + delegation
Expanding your sourcing strategies + product offerings
Earlier in this guide, we discussed what I call the Stairway to 7 Figures.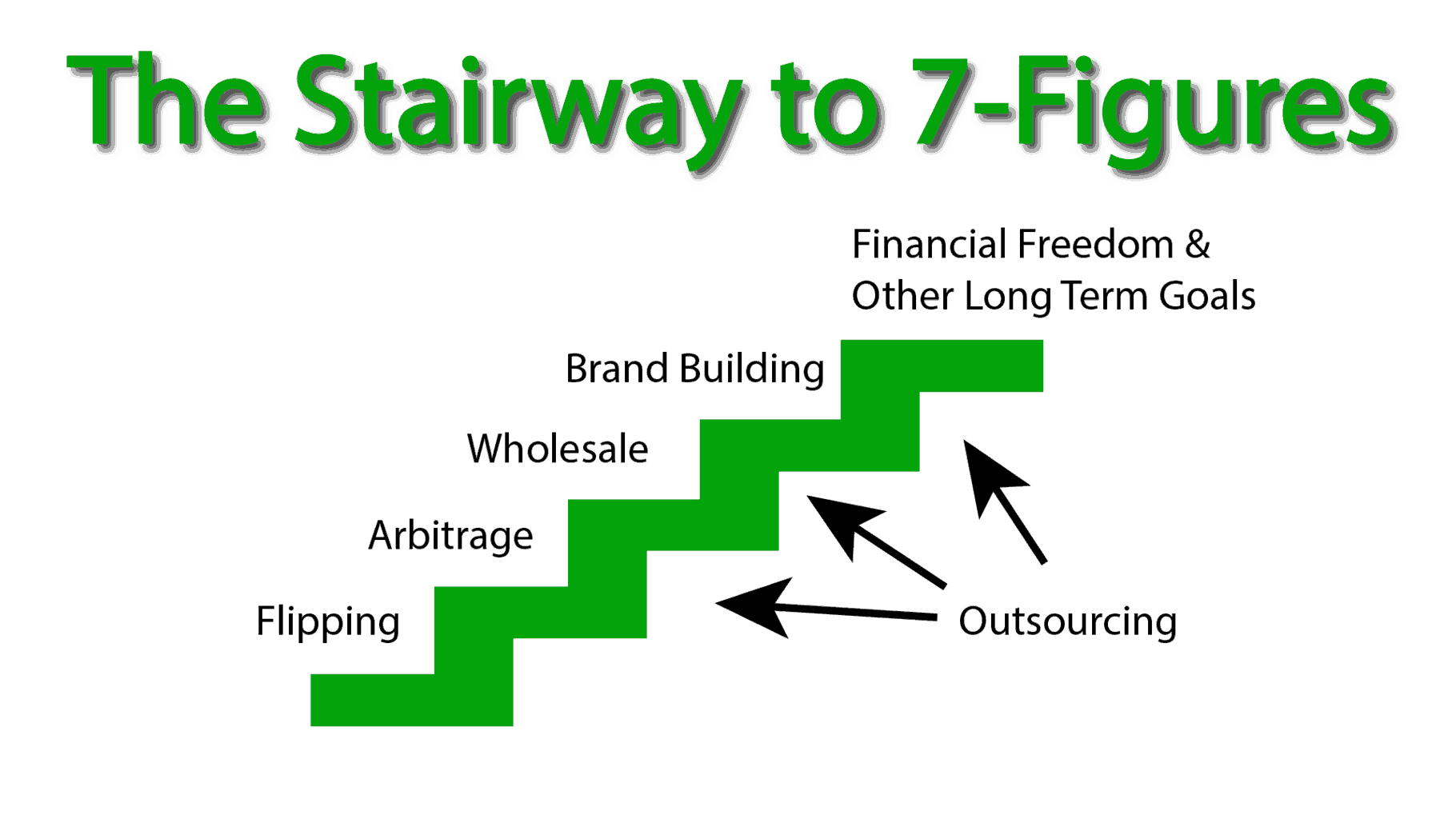 In my experience, this is the best way to approach the development of your Amazon business. It allows you to start small with minimal risk, then expand your business as your experience and capital grow.
As you add each additional sourcing strategy, your potential profits grows significantly. While we generate over 7 figures a year just from retail arbitrage, I've been doing this for well over a decade. Wholesale sourcing now accounts for over 65% of our sales, and for most people expanding to wholesale once they have some experience selling online will lead to the strongest growth.
Regardless of what level you are at on the Stairway, expanding your product offering then doubling down on your best sellers is also a smart move.
At the wholesale stage, this means implementing systems to continuously bring in new partners and tests to figure out which products are leading to the highest sales. When you identify items that sell consistently, you want to prioritize allocating your capital to buying these items, as selling the same product over and over again carries much less risk than testing out new products.
At the brand building stage, this means identifying products closely related to ones you are already offering and expanding the presence and authority of your brand by offering a more complete product line.
Automation + delegation
I would not have achieved the success I enjoy today if I had not leveraged automation and delegation strategies.
The basic idea here is that you want to free up your own time to dedicate to the highest value activities you could be doing. What this is will vary over time, even on a day to day basis. But the point remains, the more you focus on the most important and most valuable tasks, the more you will earn.
To be able to do this, you need to build systems, leverage tools, and hire other people when tools can't do the job.
Tools & Supplies for All Amazon Sellers
Shipping Scale – This is needed to determine the weights of the boxes that you will be sending to Amazon as well as shipping to customers. You could get started with a bathroom scale initially, but getting a dedicated shipping scale is a good idea. The one I linked to is good for starting off and is generally about $18.
The one I use is about $42 and you can check it out here.
Printer for shipping labels: you will need access to a printer for the shipping labels for your boxes. There's a few options here:
Use a printer that you already have. Technically Amazon requires that you use a laser printer to avoid the possibility of ink smearing. So if you have an inkjet printer, you want to be careful but if you tape completely over the shipping labels then you should be just fine. I can't officially recommend starting off with an inkjet printer, but that's what I did right away when I was getting started and it didn't cause any problems for me.
Office Max / Office Depot / Fedex Office / Most UPS Stores – All of these stores offer the ability to print for a relatively small fee and will get the job done if you are looking to keep costs to a minimum getting started.
Dymo 450 XL – This is a dedicated shipping label printer. This is 1 of 2 different models that we use in my business. Using a printer like this is quite a bit more efficient and you are also are compliant with Amazon's requirements. The price of this is usually between $150 and $180 so it's a decent sized investment.
Zebra LP2844 – This is also a dedicated shipping label printer. This is the 2nd type of label printer that we use in my business. This model is no longer made new, so I recommend buying a used or refurbished if you go this route. These aren't quite as user friendly as the Dymo, but you can usually pick up a used one between $110 and $130. I have a slight preference for the Dymo as you are able to get it new, and it's a bit more user friendly. Overall though either of these 2 label printers will get the job done if needed.
Shipping Tape – I now buy this from Uline, but when getting started I would buy from Amazon. If you want guaranteed quality I would go with Scotch or Duck Brand. If you don't need the highest quality tape (in my opinion you don't) then you can buy one of the 6 or 12 packs of a random brand for $1 to $1.50 per roll. Tape is also easy to buy at stores like Walmart, Target, Home Depot, etc if you just want to start with one roll.
USB bar code scanner – This will help you dramatically speed up the time it takes to list items for sale on Amazon. With the USB bar code scanner you are able to connect it with your computer and then scan the bar code of products as opposed to entering it in manually. You can manually enter in the UPC / bar code of products when listing items for sale, but the amount of time that this will save you is well worth the investment in my opinion. The one I use is linked and is generally available between $14 & $16.
Scotty Peelers – this tool definitely isn't required, but it makes life easier. It is designed to help remove pricing stickers from products. They are much easier than removing stickers with just your fingers. With the metal ones be very careful as they are extremely sharp.
Heat Gun – another product that is not required but makes life easier. If you need to remove a sticker from a box, or from an item in a durable box this will help. All you do is point the heat gun at the label for a few seconds and it will loosen the adhesive making it much easier to peel off. I've linked to the one I use, but there are other options out there as well. If you have a hair dryer you can achieve a similar function, but those are not as high powered as a heat gun. If you do use one be careful as they are extremely hot and can cause damage to packaging if you aren't careful.
Retail Arbitrage Tools For Amazon Sellers
Amazon Seller Mobile App – This is a free app directly from Amazon. It will allow you to scan products with your phone for retail arbitrage, and allow you to do just about everything you can do on a desktop computer. Essentially it allows you to manage most aspects of selling on Amazon from your phone. Regardless of the sourcing method you are using, I'd download it.
InventoryLab & Scoutify – These are included with the same subscription. Scoutify is a retail arbitrage scanning app. It will provide you with some user friendly tools that the Amazon Seller App does not have. InventoryLab is a software to help you list your items for sale, manage your accounting, determine your profitability on items sold, and much more. They offer a 30 day free trial, and you can learn more here.
Online Arbitrage Tools for Amazon Sellers
Tactical Arbitrage – This tool helps to automate the process of online arbitrage. In a nutshell the way it works is it allows you to pick one of the 1,000+ retailers it is compatible with, and then go item by item automatically and compare the price on that retailer's website to what it's selling for on Amazon. Items that meet your criteria are added to a list for your review. So rather than filtering through products manually, you get a short list of potential online arbitrage purchases. This only scratches the surface of what the software does, but in a nutshell this tool makes online arbitrage significantly more efficient. You can sign up for an extended free trial by using code OSE10 when signing up HERE.
Revseller – This is a chrome extension that helps to reduce research time by displaying sales rank, category, and profitability at the top of each product page directly on any item you are looking at on Amazon. You can check it out and sign up for a free trial if interested HERE. 
Wholesale Tools for Amazon Sellers
Price Checker 2 – Price Checker 2 specializes in the evaluation of wholesale price lists. You are able to upload a list of prices and UPCs and then the software will go through and show you key data on each one. This includes: profit, return on investment, sales rank, and much more. Rather than looking up items 1 by 1, you are able to look up thousands in just a few minutes.
Tactical Arbitrage – In addition to the online arbitrage features mentioned above, Tactical Arbitrage has a wholesale price list evaluation tool. It allows you to upload a list of products and it will pull all the details for you that you need to make a buying decision.
Restock Pro – This is a tool that will help you manage your wholesale inventory. The software links up to your Amazon account and will keep track of your inventory levels by supplier. You set in the software how many days of supply you want on hand, and the software helps make that happen. When you are running low it will tell you when to reorder products so you don't sell out. Once you have more wholesale inventory than you can easily keep track of a tool like this really helps.
Tools for Amazon Private Label Sellers
Jungle Scout – Jungle Scout aim to be an all in one solution for Amazon sellers looking to build a brand on Amazon. They have tools to help sellers with the following: product research, finding suppliers, sales analysis, listing optimization, launch assistance, and more.
Helium 10 – They provide a variety of software tools for sellers, and aim to be an all in one solution. Their software includes tools that can help sellers with: product research, listing optimization, competitor analysis, identifying reimbursement opportunities, and more.
Viral Launch – They provide a suite of software tools designed to help sellers build and scale their own brands. Their software helps with product discovery, listing optimization, ppc management, and they have services to help you launch as well.
The above tools are some of the main tools that I think are worth considering investing in as you build your business. For a complete list of tools that I use in my business, check out my resources page.