Today I'm going to be answering some of the most frequent questions I've been getting over the past year, including some that have been brought up in the goals post from last week and the webinar I hosted Thursday night.
Here are the questions I address in the post:
I'll be announcing some exciting specifics regarding the Accelerators live on Tuesday night. After that I'll be dedicating a substantial period of time to answer more questions – so if you have any that aren't addressed here, make sure to sign up now.
Do you see private labeling and developing your own brands as being a bigger part of your future?
Yes, I do see it being a bigger part of the future.
We have a lot of opportunities with the existing companies that we work with, especially on the RA & wholesale sides, but I think we need to have our own brands in the mix as well.
I have one idea for a product line that I plan to launch in mid to late 2020. Our plan will be to initially launch primarily on Amazon, then look to sell the product on our own site as well.
Unless this really takes off, it will be a secondary focus area for 2020, but it's an area we want to expand in the next few years.
What role does Walmart.com play in your business and do you think it will increase?
We are currently approved to sell on Walmart and are in the process of getting our first items listed there now.
We plan to initially list a very small selection of our products there and will use the results from that to determine what additional products to sell on Walmart. If things go well, we will aim to have all of our best selling products from our suppliers listed on Walmart in addition to Amazon.
This of course assumes that the companies we work with on the wholesale side of things are ok with being listed on Walmart, not all are.
Within the next couple of years I'd like to see Walmart contribute 10% plus of overall sales.
Any updates on the Shopify experiment?
This is due for a longer update once I have more to share.
It's going alright, but it has taken the back burner compared to other projects that I've been working on.
Unfortunately, I had to let the main team member who was working on this project go over the summer, and that has slowed down the growth. It's still generating sales and operating, but it's not an area that's getting significant attention at this point.
The most likely path will be to try to sell this site between June and October of 2020 barring any significant changes.
How would you recommend a new seller treat eBay in 2020?
We mainly sell our returns and items that can't be listed on Amazon on eBay. We also have a good chunk of our inventory that's listed on Amazon also listed on eBay, and then we use multi-channel fulfillment to use our FBA inventory to fulfill FBA orders.
For new sellers in 2020, I'd recommend testing out eBay in conjunction with Amazon. There are fewer restrictions on eBay, so I think that the 2 complement each other nicely.
For new sellers that come across a good opportunity on a product that is restricted on Amazon, I'd recommend that they research it on eBay and see if it makes sense to sell there too.
For newer sellers, I'd recommend that they test out selling their items on both Amazon and eBay and then continue to invest time and money where they are seeing the best results.
I still think Amazon presents the best opportunity if I have to pick a single marketplace, but there are so many ways to make money as an online seller, that testing out all options, and double down on the 1 or 2 methods that work the best is the way to go for most sellers.
How do I deal with so many products being "restricted"?
This is one of the most common questions I get. Here's one of the most recent versions of it from last weeks post:
"I have recently signed up as an Amazon Seller with an FBA account. With that said, I went on my first trip to try and find an item that was on clearance to sale on Amazon. I was very encouraged by some of the deals that I found. However, I was also very discouraged by the fact that each time I found a promising item, I was restricted from selling it on Amazon… Can you advise me on how to eliminate these restrictions or what I need to do at this point as a newbie?"
But I pretty much get a question along these lines a few times a week, every week.
Dealing with restrictions is one of the main challenges you will face as a new seller. Some of these restrictions will always be there, no matter how much experience you gain. Others you will be able to get removed through a process most people call "ungating".
Since this is such a big and common problem, we're putting together an entire guide to Amazon restrictions and the process of getting ungated that we'll publish on Monday.
Ungating will also be the topic of one of our 2020 Accelerators. To learn more about that, sign up for the webinar Tuesday night where I'll be going over each Accelerator topic in greater detail.
If you find an especially great deal and are not yet eligible to sell the item on Amazon, another option is to sell it on eBay. I mentioned this above, and this is a strategy that my business still uses. You'll want to make sure that your expected profit stays the same on the new platform though – and keep in mind the differences in listings too.
What would you recommend for someone starting out as a new seller in 2020?
My recommendations here haven't changed!
If you are new to online retail, the two best strategies for getting started are flipping and retail arbitrage – even in 2020.
Here's why:
Both of these strategies allow you to get started right away – you could go sourcing right now and get an item to sell.
You can be profitable from the beginning.
You can maintain your existing job easily and perform these on the side.
They don't require any experience to get started with.
They allow you to develop the experience that is necessary to do well with wholesale, private label and other strategies with greater earnings potential.
Unless you have a lot of money or experience to back you up, trying to start higher up on what I call the Stairway to 7 Figures just doesn't make sense. It is too risky.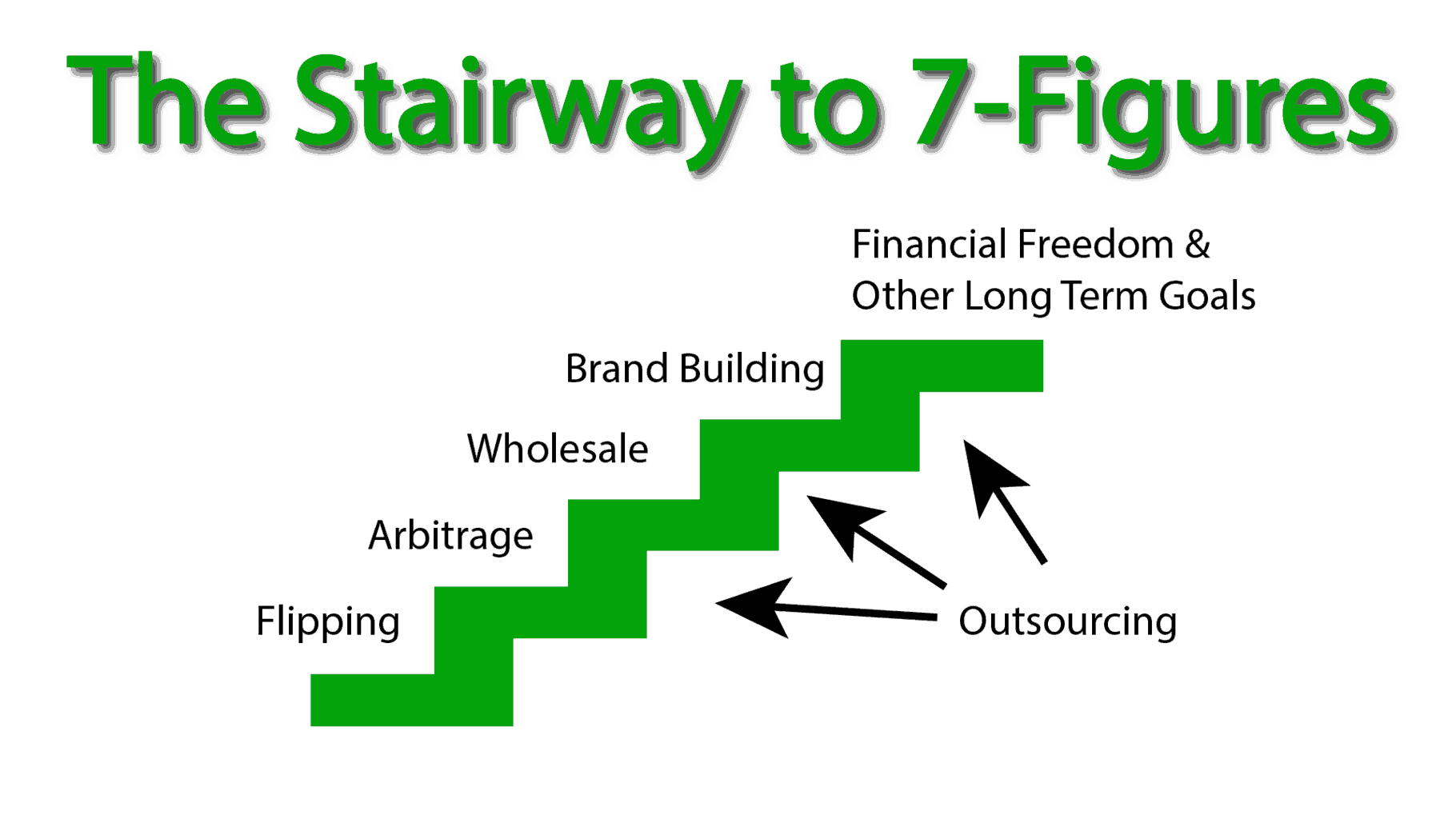 Either option will work, I recommend starting with both.
Flipping offers the most reliable way to start making decent money immediately. The amount of available products is very high – garage sales, estate sales, auctions, flea markets, and even online marketplaces like Craigslist and Facebook Marketplace are full of products you could buy and sell for a profit.
They will all qualify as "used" though, so you will be selling them on marketplaces that cater to this – like Craigslist, Facebook, and eBay. Etsy as well for the right products.
Retail arbitrage is what is going to get you onto Amazon because you are selling something new. Depending on where you live, it can be very challenging to find profitable products that you are eligible to sell when you are getting started and still figuring out when to check each store – but the long term potential with retail arbitrage and the doors it unlocks are what make it such an important piece of the puzzle.
This is why flipping and retail arbitrage work so well together as the beginning steps. Flipping gets you quick wins and gets the money flowing. Retail arbitrage gets you established on bigger marketplaces that offer more potential, opening the door for the strategies that come later like wholesale and brand building.
If getting started is something you're struggling with, I recommend checking out these posts:
What tools do you use in your business?
We keep a list of the tools that I use and recommend in my business on my resources page.
Any bold predictions about 2020 and beyond?
That's a good question. I won't claim any of these are overly bold but in this section, I'll include some observations and things that I think might happen.
I think existing brick and mortar stores will be required to continue to find better and better ways to combine their in-store inventory with the online purchasing convenience to be able to compete.
I've been very impressed as a consumer with what Target has done with the ability to order online and have items ready to pick up in 2 hours, and they also have a variety of same-day shipping options as well. I think this will make it harder and harder for retailers that don't have an online presence to continue. I see this leading to more and more retail stores closing who aren't willing to adapt to the current landscape.
With the change in the above paragraph, I think selling on channels like Walmart will become more important and more viable for 3rd party sellers in the coming years.
Target is reportedly adding 3rd party sellers, and I see a lot of value for sellers that are able to become a part of that early on. There will likely be other existing stores that decide to launch marketplaces that should present good opportunities for sellers as well.
Retail & Online Arbitrage aren't going anywhere.
At least weekly I receive emails asking me if retail or online arbitrage is still something that works. And the answer I believe will always be yes.
Now, will the exact methods change and evolve? Absolutely. Will the best marketplaces to sell items on change? Absolutely.
But will there always be gaps in markets that present opportunities? Again, I think the answer is absolutely. Even if we take a look at the stock market, there are still arbitrage opportunities. At this point they are only really able to be accessed by high frequency traders using the most sophisticated computer systems in the world. But the arbitrage opportunities still exist there.
Now when we switch back to the world of retail and online arbitrage, we'd have to somehow have a way where every product on every single marketplace in every part of the country was selling for effectively the same price to wipe out arbitrage opportunities. Stores will always need to clear out inventory and provide discounts to do so, stores will continue to close and liquidate inventory, and these present opportunities. There will also always be buyers who value their time or certain items extremely high. They don't care of it an item retails for $20, they want it and are willing to pay $40 for it, so they will, and this provides arbitrage opportunities as well. Retail simply isn't an efficient enough market to eliminate arbitrage opportunities. Again the exact methods and marketplaces might change, but arbitrage from retail and online stores is not going away.
—
Thanks for all of the questions, I enjoyed putting this post together!
If you have additional questions, make sure you JOIN ME LIVE on Tuesday night! We have some more details for the Accelerators to share – and then I'll be dedicating the rest to Q&A. See you then!