Want to replace your job with an automated online retail business?
Learn the step-by-step system I used to replace my 9-to-5 accounting job with an automated, 7-figure online retail business!
So you've decided it's time to take action and make progress on the goals you have for yourself. 
Maybe you want to quit your job, maybe you need more money for retirement, or maybe you want to automate your income streams so you have more time to travel or spend with your kids.
The problem you have now is that actually achieving these goals is a lot harder than setting them.
Unfortunately, most people get stuck in an endless loop of committing themselves to some business idea, running into early obstacles, then starting over from scratch a few months later.
If that sounds familiar, know that you aren't alone. 
In fact, this is the normal state of most people who want to start a business because of how much bad, conflicting, and downright confusing advice there is out there.
So now you're here wondering if selling things on Amazon or online in general might be something that will work out for you, but you're probably a bit skeptical too.
You should be skeptical, that's a good thing.
Starting a business is a big commitment, and the majority of business plans require time, money, and expertise that most people simply don't have.
So let me tell you a little about how (and why) I built a 7-figure online retail business from scratch to give you some insight that should help you make an educated decision about trying online retail.
Is online retail worth your time?
Your time is the most valuable thing you have, so let's cut straight to the chase.
There are benefits to online retail, but there are also some downsides that mean it's not the right plan for everyone.
Here are the upsides with online retail:
Low startup cost
Lots of money to make
Automation potential
The low cost to getting started means you can be profitable from the very beginning. You can even get started with no money at all if you don't have any. 
Online retail allows you to start with what you have and scale from there. The upside yearly earnings potential is in the multiple millions.
And in the long run, the entire operation can be automated. This has been one of the biggest benefits for me – my business makes money whether I'm in the office or traveling the world. 
When I do work, my time is primarily dedicated to growth and new ideas.
On the downside, selling things online is not what most people think of when they imagine their "dream job".
But this reminds me of a quote I think about often from Tim Ferriss in The 4-Hour Workweek:
I will take as a given that, for most people, somewhere between six and seven billion of them, the perfect job is the one that takes the least time. The vast majority of people will never find a job that can be an unending source of fulfillment, so that is not the goal here; to free time and automate income is.
My life is proof that online retail offers both of these things.
Right now (late February 2020), I'm updating this page while on an overseas adventure with my girlfriend in Thailand.
If you would have told a younger version of me that one day I'd go from a living in a small mid-west town to traveling the world while running a 7-figure (soon to be 8-figure!) business in my spare time, I would have thought you were crazy.
But I've been lucky and fortunate enough to have figured this out, and now my goal is to help you do the same.
And I have good news:
Online retail is just as big of an opportunity as ever, you haven't missed the metaphorical boat, and there's a ton of money to be made over the next 5-10+ years.
Wait - why should I listen to you?
Good question.
The main reason is that everything I teach has been tried and tested many times over the course of more than a decade.
The systems I recommend for starting an online retail business from scratch and for scaling to 6, 7, and even 8+ figures have been proven to work.
I started just like you might find yourself – nearly broke and looking for some way – any way – to make some cash on the side.
Over time I was able to figure out what works and what doesn't and turn that into a cohesive strategy and business with 8+ employees selling on multiple marketplaces and our own websites with well into the 8 figures of total items sold.
The commitment to "experimenting" and finding out what works has never left though.
Unlike many "gurus" who sell out and make all their money teaching other people, selling online is still my main business and we're running several experiments right now to find new ways to make more money and become more profitable.
And all that gets passed along to you.
Learn ALL my strategies in Online Retail Pro.
Below I'm going to share the details on the highly successful training program I offer, but before I do, I'd like to make one thing very clear.
You don't need it to get started or to be successful.
If you are especially pressed for cash, you can get started with no money at all or take our Arbitrage Accelerator Challenge.
With that being said, I've designed Online Retail Pro to save you time and make you more money.
It contains everything I've learned during the 10+ years I've been selling things online.
From how to get started with any amount of money to how I've scaled my business up to 7 figures using strategies like outsourcing and wholesale, there isn't anything left out of this course.
If you want your own business and recognize the massive potential that selling on platforms like Amazon and Walmart.com offer right now, this course will help you take advantage of that potential quickly and efficiently.
Here are some of the modules in the full Online Retail Pro training program:
But will all this help you?
Online Retail Pro is the result of over a decade of successfully selling things online and years of working with other people to teach them how to do the same.
The course covers everything you need to know about starting and scaling a successful online retail business.
There are other courses out there that teach you about online retail, but they usually only focus on a single sourcing strategy and are not beginner friendly. 
This course will meet you wherever you are currently at and help you build a highly successful business one step at a time.
Online retail is growing fast right now, and I'd like to help you take advantage of the growth and build a successful business. 
+ The "I Can't Get No Satisfaction Guarantee"
Enroll in either the Lite or PRO version and get our 30-day, no-questions-asked, money-back guarantee. If you aren't satisfied, neither are we!
Why Our System Works Better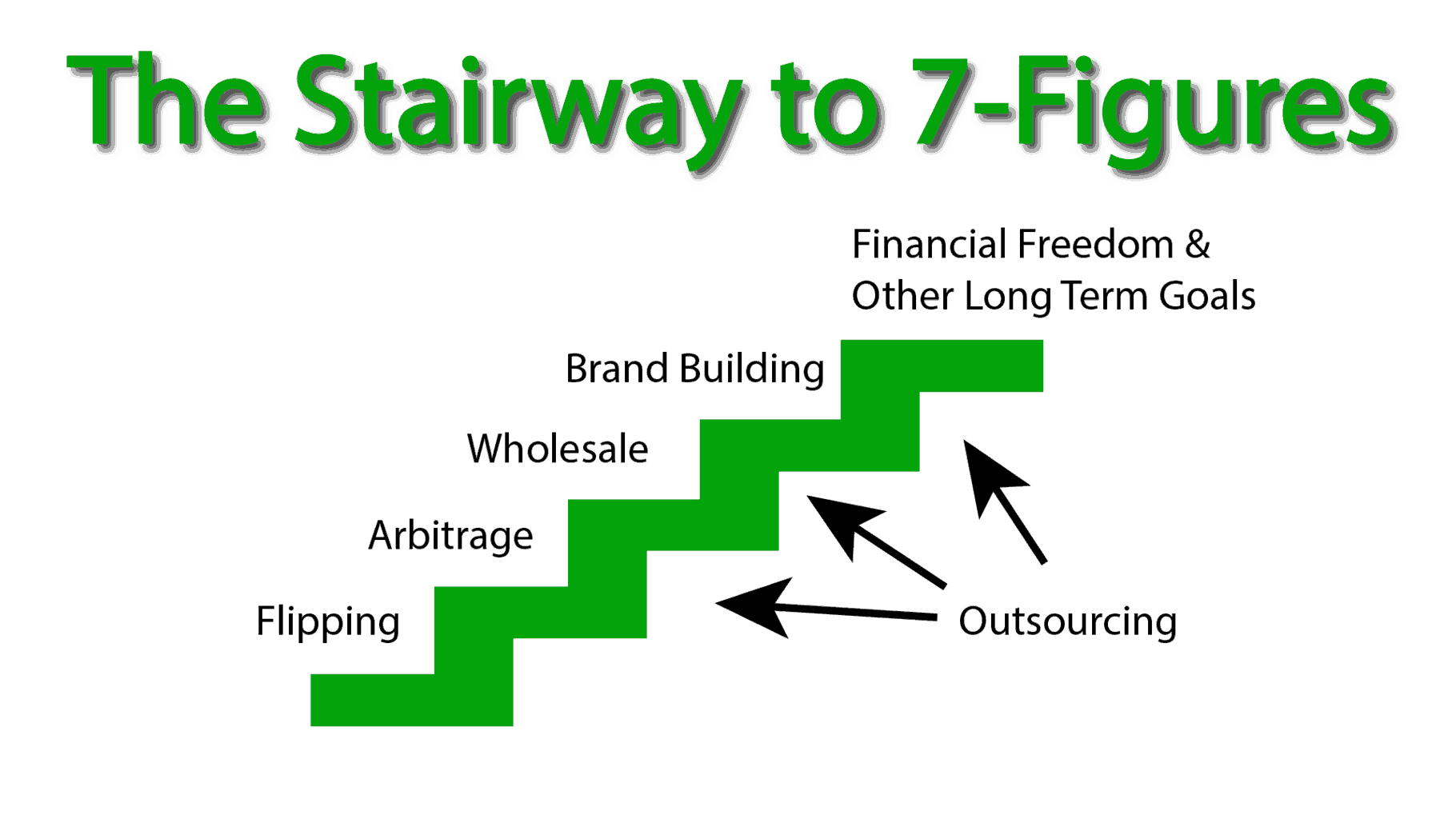 Before you can sell things online for a profit, you have to obtain things to sell.
There are several ways to do this. The main ones are:
Flipping
Retail Arbitrage
Online Arbitrage
Wholesale
Building your own brands ("Private Label")
Flipping and retail arbitrage offer the best opportunities to start making money immediately with minimal risk – you can get started with practically no money at all. In fact, you don't need any money if you sell a few items you already own to gain some startup capital.
But wholesale and private label offer by far the greatest upside and long-term profit potential.
Most people look at this as an "either – or" decision.
Either you pick retail arbitrage and grind it out for the rest of your life, or you pick private label and risk all your savings on hitting the big time.
This is a false dilemma.
You don't have to choose between them. In fact, it's a bad move to do so.
A much smarter move is to start with the ones that allow you to gain money and experience in a low risk way (flipping + arbitrage), then move up to wholesale and private label as you gain the capital and knowledge needed to pull them off.
Our Best Sellers Lab program covers flipping, retail arbitrage, and the keys to success with online retail. This is everything you need to start earning a nice profit online. Many of our students have used it to earn $1000+ per month, some even replacing their jobs with this material alone.
Our Online Retail Pro program covers everything in the above diagram except private label.
Private labeling and building our own brands is one of the main things we're working on and experimenting with in 2020. There is a lot of bad advice out there about brand building, and we're committed to figuring out what works before offering any training on it.
In the meantime, our business is currently generating nearly 8 figures a year from arbitrage and wholesale strategies.
The reason this system works better than what others offer is simple:
We don't artificially limit your product selection OR advise you to use worn-out strategies that lead to big inventories of bad products (most private label strategies).
We focus on selling things that we know will actually… sell!
Since the upside to this strategy is in the millions and it helps mitigate risk, we think you should try this results-first strategy too.
Does retail arbitrage still work?
Yes, retail arbitrage is still a great strategy for sourcing products. Lot's of people will tell you that it's against the rules or that it's impossible to find products. This isn't true. There are rules that restrict certain types and brands of products from being sourced this way, but my business still does several million dollars in retail arbitrage- based sales each year!
Why can't I do this on my own?
You can! These programs are simply meant to save you time and help you make more money faster. My team and I collectively have several decades of online selling experience, and there was a lot of trial and error that happened along the way. By working with us, you get to skip a lot of this and go straight to implementing what is actually working and profitable in 2020 and beyond.
I want to skip straight to wholesale. Can I?
You can try, just keep in mind that wholesale takes more money and experience to pull off. It used to be as simple as getting a wholesale list and contacting suppliers. These days, there's a lot more that goes into getting wholesale accounts – including establish "value props", building a "value prop" website to establish credibility, going to trade shows, and a whole lot more.
We give you the entire playbook – including how to build out a simple website – in the PRO version of this course, but you have to keep in mind that at the end of the day, having existing online sales is a huge part of getting a potential wholesale partner to trust you. This is why starting with retail arbitrage can be such a good idea. Even if you don't earn millions, you can get familiar with various marketplaces and develop a reputation as a trustworthy seller.
What about your Accelerators? What are those?
Accelerators are a new concept we're offering this year where you can work with my team and I on a very specific goal. Whereas this program gives you the entire playbook, the Accelerators focus on one piece of the system and aim to generate results in a very short period of time. Some people like getting full access and doing things at their own pace. Others prefer the hands-on nature of the Accelerators and the guaranteed results. Different strokes for different folks.
I would like to enroll but can't afford it at the moment. What should I do?
If you don't have a business yet, you should check out our Arbitrage Accelerator Challenge. 
If you've done that already or if you have a business but have cashflow problems, you should reach out to us to talk at support@onlinesellingexperiment.com. We will work with you to get you started on the next steps you need to take.